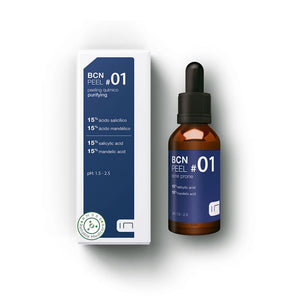 15% Salicylic Acid   15% Mandelic Acid   1,5-2,5 pH
BCN Peel #01- Acne Prone is a chemical exfoliant that combines the alpha hydroxy acid (AHA) mandelic acid with the beta hydroxy acid (BHA) salicylic acid. It is characterized by its keratolytic, astringent antimicrobial and anti-inflammatory effects. It is also know by its function of balancing the sebum production of the sebaceous gland and the neutralization of propionibacterium acnes, responsible for acne infection.
MUST BE USED WITH BCN Neutraliser 
Strictly professional use only. By purchasing this product you are confirming that you are a trained professional and accept full responsibility of use of this product.