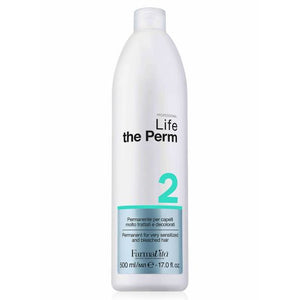 Create beautiful waves with the FarmaVita Life The Perm 2 - Sensitized and Bleached Hair* 500ml.
Firm perm creates marked waves 
Adds protection, vitality and elasticity
Effective support without damaging hair
Fixes and perms the protein molecules inside hair
*FarmaVita Life The Perm 2 is formulated for very sensitized and bleached hair types. 
Directions for use: towel-dry freshly washed hair and set in curlers. Apply the waving liquid on each lock and allow it to act according to the application time. Rinse with plenty of water and dry with a towel. Apply the proposed application of Life Universal Neutralizer for 5 minutes before rinsing abundantly.