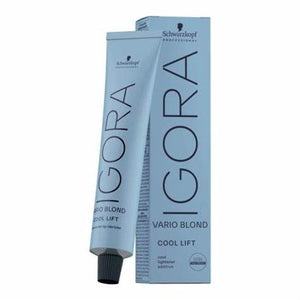 IGORA VARIO BLOND Cool Lift - Cool lightener additive for simple cool blonde highlights in one easy step.
Fibre bond technology that gives extra neutralisation when mixed with IGORA Vario Blond Powder. 
To be mixed with IGORA VARIO BLOND Plus or Super Plus. To be used with IGORA ROYAL Oil Developer (3%/ 6%/9%/12%)

HOW TO USE
Preparation: Mix all three components IGORA Vario Blond Cool Lift + IGORA Vario Blond Plus or Super Plus + IGORA Royal Oil Developer until a creamy consistency is achieved. Mixing ratio Powder versus Fluid 1:2 (1 part powder + 2 parts developer + Cool Lift) + 2 parts of Developer + Cool Lift). Apply evenly and generously to dry hair, do not shampoo beforehand. Only apply off-scalp (highlights). Do not apply to light blonde or previously bleached hair. Do not apply to delicate hair and/or sensitised hair. Do not apply on scalp. Use clean professional application tools.